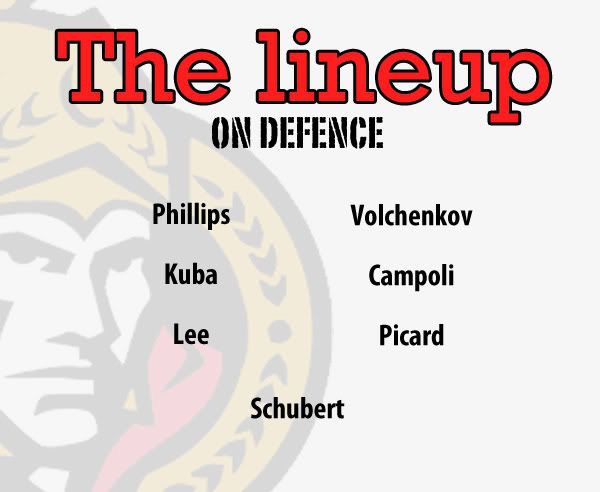 First, the disclaimers so I don't get slammed in the comments: I didn't take into account who plays left or right (they don't even do that in the Sens program anymore), and it's a bit of wishful thinking, and what I've heard in the newspaper.
Basically, I can't imagine this any other way. I know that
Erik Karlsson
is The Great Blond Hope, and probably the Ottawa Senators best prospect since
Jason Spezza
, but from what I've seen of his
defensive
skill, he's just not ready to take on the towering, powerful forwards of the NHL.
To be completely fair, I do think he's capable of getting 30 points in the NHL this season, but the cons outweigh the pros for now. Even compared to the not-terribly-large
Brian Lee
, Karlsson is small. Lee also has parts of two NHL seasons under his belt, and weighs 25 pound more than Alfie's babysitter. He's the better choice for this year's squad.
I've had sweet, sweet (non-sexual!) dreams of General Lee and King Karlsson throwing the puck along the blueline on the Sens power-play. Dancing between slower defenders, and setting up one-timers for
Dany Heatley
Jonathan Cheechoo
. But I don't think this is the season to make it happen.
Karlsson is a better puck-handler than Lee (though Lee is no slouch), but the defensive aspects of his game need work. Perhaps when he was paired with towering defender Victor Hedman, he was able to get away with certain defensive lapses against smaller competition, but that won't be the case this season. Karlsson need the AHL experience to gain some grit, put on pounds, and delay his rookie season.
Alex Picard
, for example, was
not
born in 1990, is 6' 2" and 225 pounds, and will pick up 25 points this season. It's a crowded blueline roster, and there's no harm in giving the NHL contracts a chance to prove themselves before making room for the rookies.
I think the rest of the lineup is a gimme. Except for
Christoph Schubert
, who has been on the trading block for all of last season.
Miscellaneous observations from Saturday night:
Thanks to SBP for making free wireless internet available during games, it's great for twitter during the games (and I took full advantage in case you didn't notice).
Are the NHL refs now wearing strange NFL-style stripes? It sure looked like it to me.
And man! Is
Ryan Shannon
ever small! I didn't really notice until Saturday's game. He looks like a leftover from the intermission Timbits game.