2 Luke Richardson
Peter says: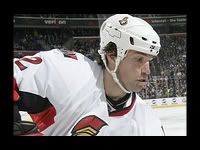 C+

Started the year strongly, highlighted by a one-punch knockout against Brandon Dubinsky. As the year went on, however, his speed (or slowness) became a factor, and he was scratched for the playoffs. His leadership may have been good, but it didn't help the team.
Won't be back for next season.
Ben says:
B+

Did everything expected of his this year and more. Played significant minutes for an old guy, but according to the playoffs, didn't bring the leadership needed.

4 Chris Phillips
Peter says:
A-

The Big Rig played the way he plays. Reasonable physically, and pretty good at shutting guys down. He looked good with Anton Volchenkov at the start of the year, and once Mike Commodore started playign well he looked good with Phillips. His leadership will be counted on for next year.
At only $3.5M, he's a bargain.
Ben says:
B



Definitely a bargain, but did not have nearly the impact that he did last year in the playoffs. This could be because he didn't play with Volchenkov as much.
6 Wade Redden
Peter says: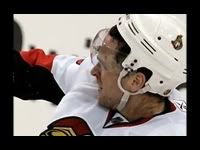 F

Terrible. You could probably count the number of good games he had on one hand. Maybe even the number of good plays he made on one hand. If Redden really wanted to be back with this team next year, he sure didn't show it in his play.
Won't be back next year.
Ben say:
14 Andrej Meszaros

Peter says:
C+

Started poorly, but played pretty well once Bryan Murray stepped back behind the bench. He had a decent playoff. His puck-moving and powerplay abilities are even more valuable on the Sens since they've lost Tom Preissing, Joe Corvo, and--in all likelihood--Wade Redden over the course of two years.

He's got too much potential to give away. Unless he's traded for a rarer commodity (part of a package for a franchise goaltender, say), the Sens should try and re-sign him for $2.5-3M, if they can.
Ben says:
C+



We should have expected more from Meszaros this year, and he didn't really deliver. An underwhelming season, but hopefully the exception in his Sens career.

24 Anton Volchenkov
Peter says: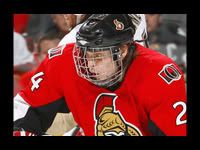 A+

Amazing. The man is an absolute warrior.
Maybe the best deal in the league at $2.5M per year.

Ben says:
A



I would almost give him our #1 defender spot at this moment. Not because he's great, but others did not play as well. Can't fault him for that.
44 Mike Commodore
Peter says: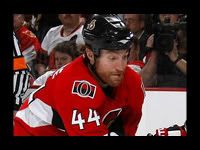 C+

Commodore looked terrible when he first got here, but once he started learning the system he looked better. Although he can be slow, a full year under whatever system the Sens employ next year would be beneficial, and he's a pretty solid playoff player.
If he'll sign for $2M or less, I'd like to see him around for another year.

Ben says:
D+

Looked slow throughout the regular season and the playoffs. Did not really make an impact on the team. We didn't even see much of a hair or beard 'fro. It would be a risk to keep him around, but not nearly a Hasek-level risk. I say do it.
55 Brian Lee

Peter says:
B-

The General played well in the few months with the team. He's really benefited from his time in Binghamton, and I'm only expecting better play for next season. He may even step into the top-four, if everything goes his way.
Still on his rookie contract.
Ben says:
A+

Although he resembles a zombie, I must say that Lee is the great hope for the Senators' defensive corps. No one could have asked more of Lee this year. He showed Redden how Redden used to play.